Latest fashion sarees for weddings and parties 2017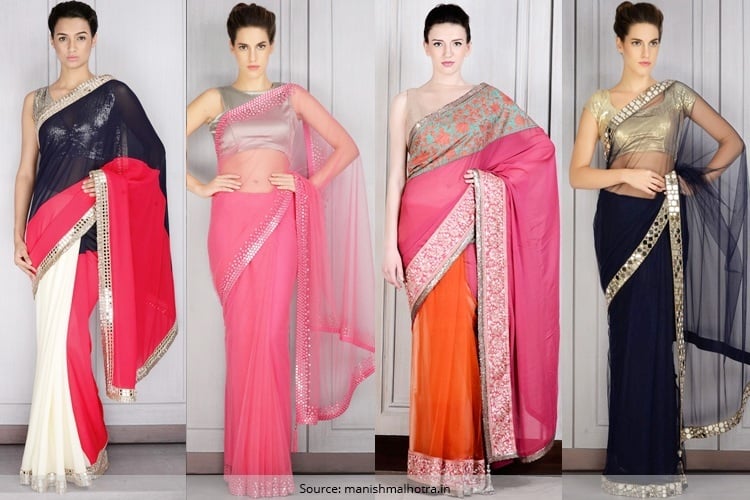 Who does not know the ace designer and his most-loved designer wear collection? Designer sarees by Manish Malhotra are worn by many celebrities at various events and award functions. His favorite muse being Kareena Kapoor, she chose to wear a Mansih Malhotra designer saree for her sister-in-law, Soha Ali Khan's wedding too.
Let's get started with designer sarees by Manish Malhotra and check the different color combinations of sarees he has to offer. Here we go on the different Manish Malhotra Sarees.
[Also Read: How to Wear Saree]
1. Pink & Coral Mirror Work Saree
Price: Rs. 58,000
A georgette saree in peach, ivory, red and pink can be worn to engagement functions and get-togethers. Being a mirror work saree, this would look best as an evening wear with diamond earrings.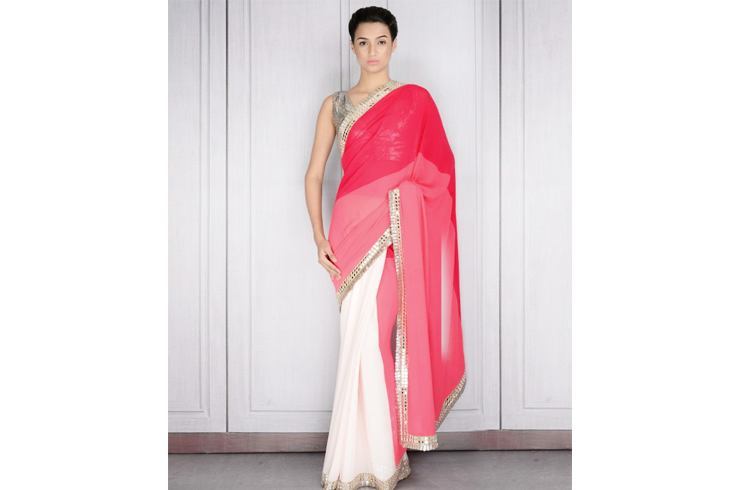 2. Color Block Mirror Work Saree
Price: Rs. 58,000
This Manish Malhotra latest saree design has color-blocking with has been trending lately. The blue, ivory and coral red combination is that of a striking one. When worn with a shimmer blouse in the colour that of the boarder, you are sure to stand out in the crowd.
[Also Read: Farewell Party Sarees]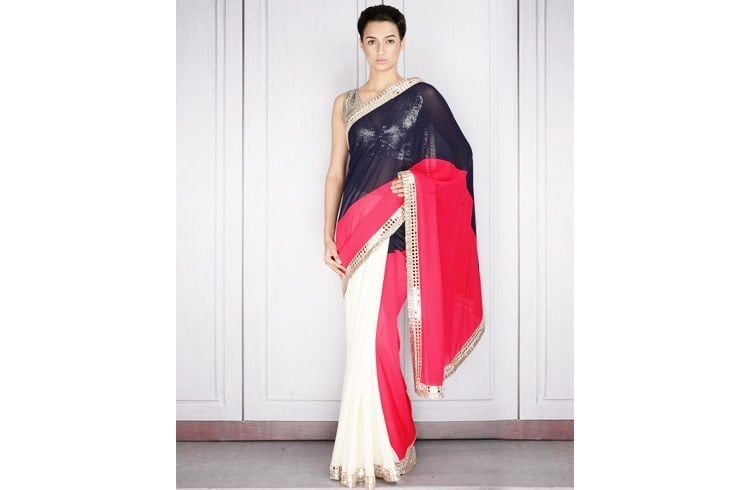 3. Frill Border with butterfly motifs
Price: Rs. 48,000
Now who can say no this colour? A powder blue saree like this one is perfect to wear during summer get-togethers or to a beach wedding. Salmon, coral and lemon yellow are the other colours available in this design. These designer sarees can also be worn by the bridesmaids at beach weddings.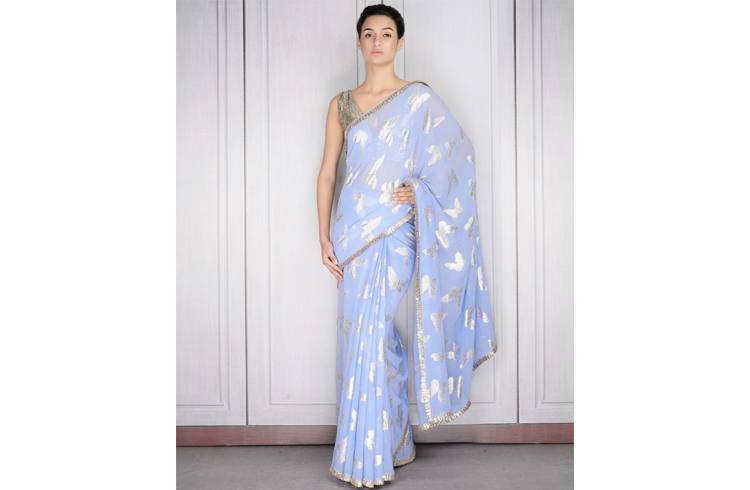 4. Sequin saree
Price: Rs. 68,000
This Manish Malhotra Pink Seqin saree is a fantastic pick to wear to cocktail parties. The jewellery can be matched with the bead tassels at the end of the pallu. Since the sequins are scattered all over the saree, we suggest that only earrings be worn with this saree. Carry a clutch in dull gold and peep-toes and you will be turning heads at the event.
[Also Read: Indian Handloom Sarees]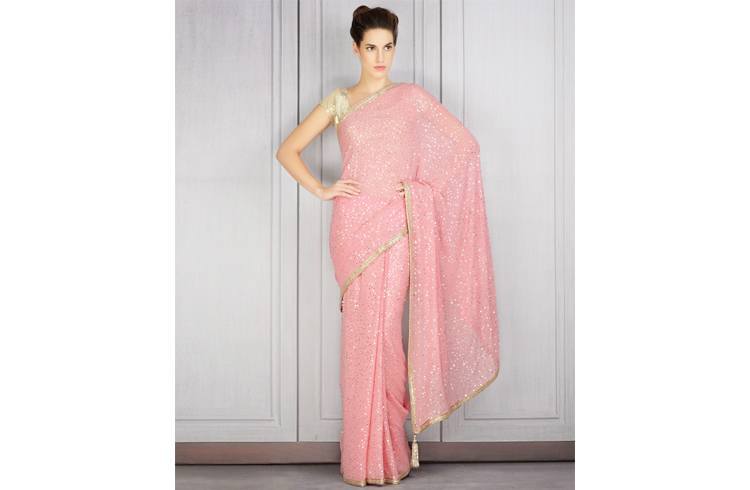 5. Navy Blue Manish Malhotra Saree
Price: Rs. 58,000
[Also Read: Manish Malhotra Bridal Collection]
Blues and Pinks have been the trend this season, not to forget mirror work. In this Manish Malhotra sari, the mirror work is loud. Wearing any accessories will look too striking. Avoid jewelry as much as possible, and only wear a nice pair of dull stilettoes. This too is an evening wear saree.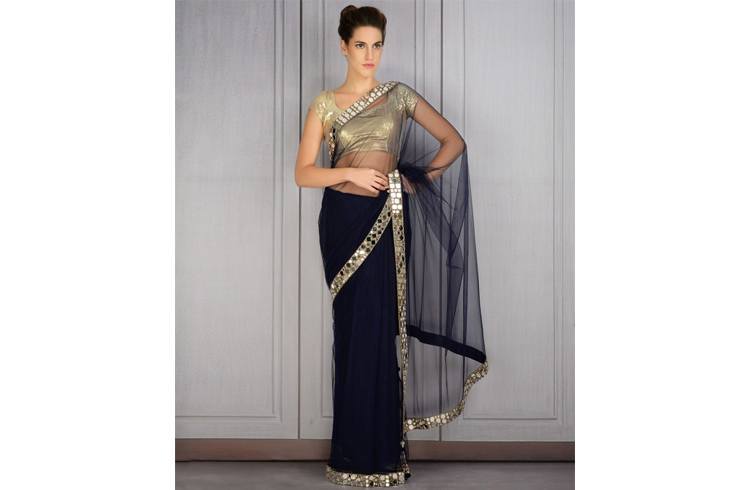 6. Manish Malhotra Designer Rose Pink saree
Price: Rs. 48,000
A simple and elegant saree like this does not need any words to explain the elegance of the ensemble. This designer Manish Malhotra saree can be worn to day-time events. Carry a potli pouch in a similar color and keep accessories to a minimum as you would want all the attention to the saree and not the jewellery.
[Also Read: Manish Malhotra]
Continue scrolling for more Manish Malhotra Sarees.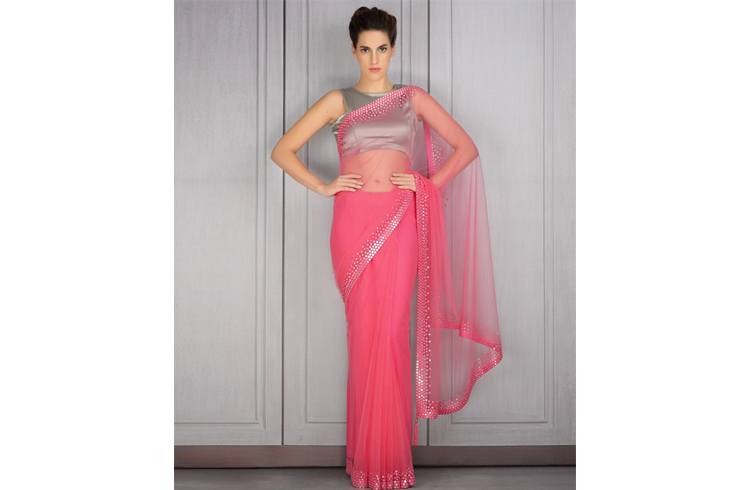 7. Butti work Ivory saree
Price: Rs. 68,000
This Manish Malhotra designer wear saree would be a perfect wear for women in the late 30's or 40's. One could either wear pearl jewellery with this ivory designer sari or wear contrasting ruby and emerald jewellery to look different and unique. A contrasting blouse, an up do hairstyle and you will be rocking at the event.
[Also Read: Celebrity Sarees]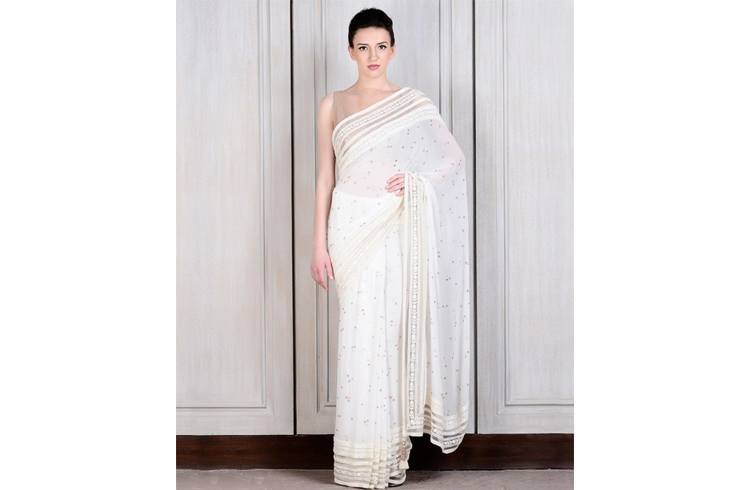 8. Grey Georgette Saree with Zardosi Work
Price: Rs. 68,000
This stunner by the designer Manish Malhotra, can be worn by the sister of the bride during the cocktail ceremony. Since the saree is patterned and is different, once again no heavy jewellery will be required. You can play up with your hair and wear bangles to look sexy and classy!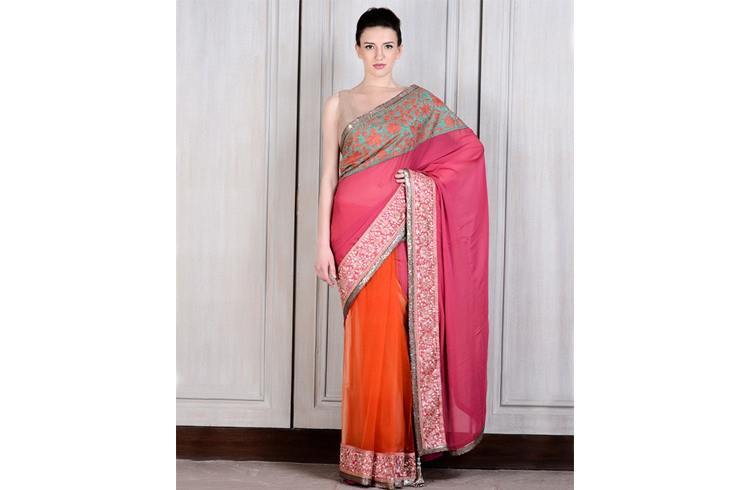 9. Half and Half Saree
Price: Rs. 49,000
Half and half has been a trend and after our Bollywood celebrities have started donning them, these have been chased like never before. A half and half saree by Manish Malhotra in pink and orange will be loved by all. The elaborate borders make this saree a very heavy and a party-wear designer one.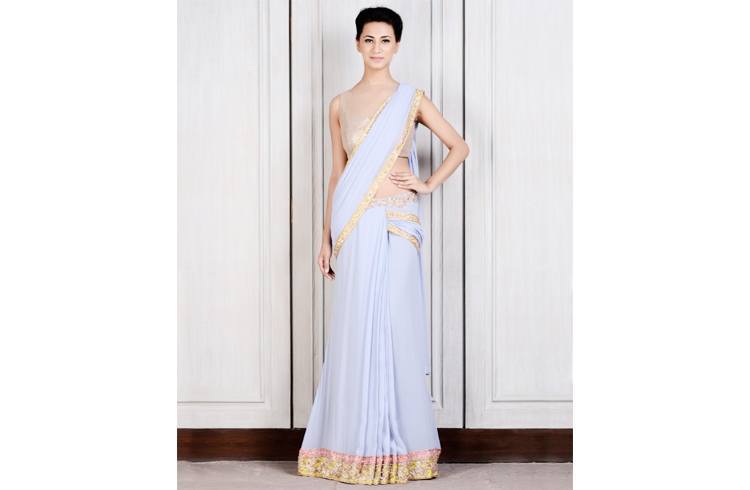 10. Checkered Saree With Floral Motifs
Price: Rs. 35,000
This Manish Malhotra saree is slightly different from the usual designer sarees by Manish Malhotra. Pick up this green checkered saree which has floral motifs as well as a broad red and golden border. Made in brocade, this saree would look amazing as a festive wear.

11. Peach Saree With Floral Embellishments
Price: Rs. 1,45,000
This net saree by Manish Malhotra is definitely priced on the higher side but the soft peach color with floral embellishments in silver definitely make it an exclusive piece in the latest designer sarees by Manish Malhotra collection.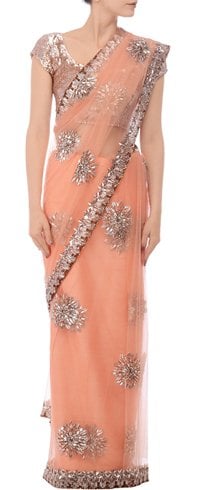 12. Pink And Silver Sequined Saree
Price: Rs. 49,000
There is no doubt every saree fanatic will want to own at least one Manish Malhotra designer sarees. If you still have to update your wardrobe then we suggest your pic up this pink and silver sequined cocktail saree by Manish Malhotra. The silver pallu is sure to grab all the attention.
13. Cream And Beige Sequined Saree
Price: Rs. 1,65,000
It is definitely a tough task to choose a favorite from the latest designer sarees by Manish Malhotra. Though designer bridal sarees by Manish Malhotra and designer lehenga sarees Manish Malhotra are always in trend, we are totally crushing on this cream and beige sequined party wear saree by Manish Malhotra.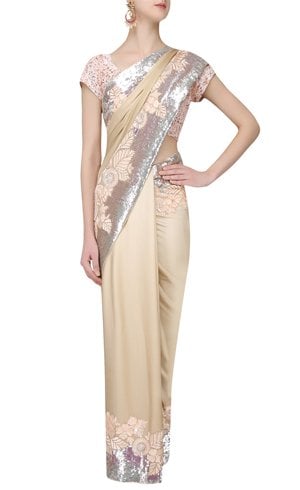 14. Multicolored Chiffon Saree
Take a look at the below Manish Malhotra chiffon saree and let us know if you would love to wear this multicolored chiffon saree.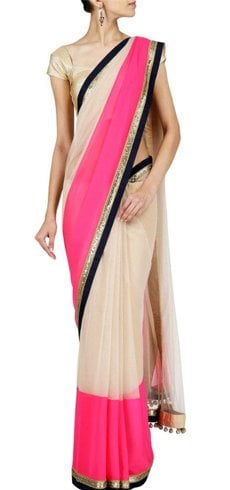 15. Orange And Pink Half Saree
Celebrities swear by designer half sarees by Manish Malhotra. Take a look at Sophie Choudry looking absolutely stunning in an orange and pink half saree.
16. Plain Red Saree
We all know that Kareena Kapoor Khan is a fan of the designer sarees collection by Manish Malhotra. We have often seen her wearing one of his creations. One such creation is this Manish Malhotra red saree.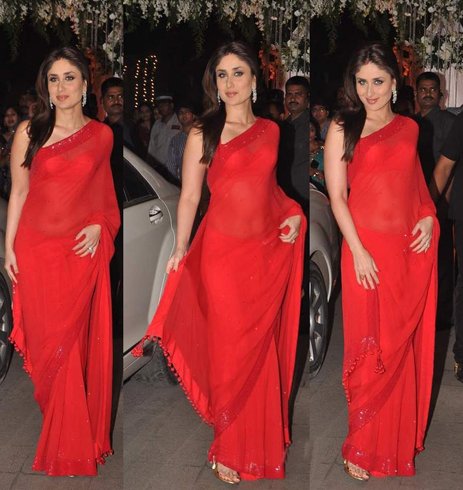 17. Blue Silk Saree
Actress Sridevi looked completely ethereal in a blue self-embossed Manish Malhotra silk saree. The saree looks absolutely classy and elegant.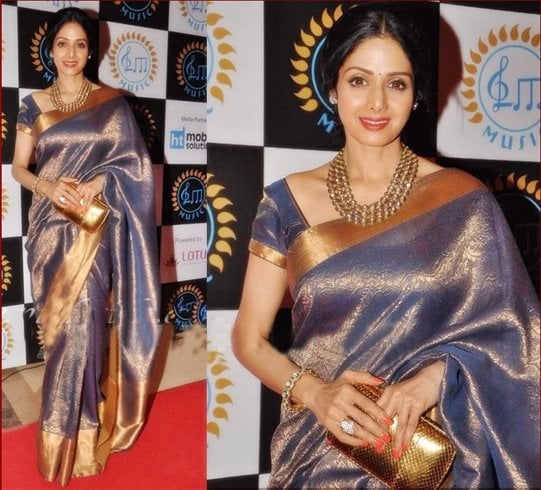 18. Banarasi Chequered Saree
The latest addition in the designer sarees collection by Manish Malhotra is the banarasi chequered sarees. Made in vibrant colors, these sarees would be the perfect choice for a traditional look.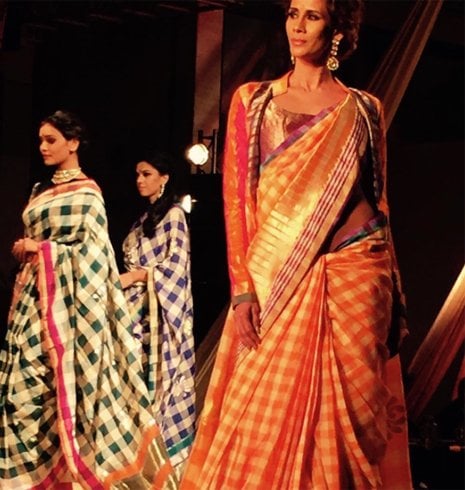 Are you thrilled to wear a Manish Malhotra designer saree? Yes? Tell us which of these Manish Malhotra Sarees is your favourite in comments below.
Images Source: manishmalhotra.in
Источник: http://www.fashionlady.in/manish-malhotra-sarees/33723
Latest Blouse designs -neck front back images for weddings
Bollywood stars in yellow shoes latest shoe styles-yellow fashion trends
Search Loves List.