Indian bridal hairstyles with flowers
The best thing about Indian culture is its exquisiteness. North, East, South or West, various rituals and bridal customs around the nation are deeply loved and respected. You would not believe, but it is true that with every state or region, the customs in India vary. Be it festivals, weddings, or any other religious events, everything has its own uniqueness and with it comes its distinctive colour, flavour and taste.
In India, weddings are not just an occassion to celebrate the union of two souls, but a bond that gets cemented for saat janam. Indian weddings are larger than life celebrations, which see brides flaunting their best looks. So, here are a few bridal looks from India that will leave you mesmerised.
Recommended Read: The Complete Wedding Album Of Actress Asin Thottumkal And Micromax CEO Rahul Sharma
#1. Sikh Bride
Image Courtesy: Amour Affairs
A Sikh bride can wear loads of jewels and gems, but her bridal look can never be complete without the chooda and kalire. For the Anand Karaj ceremony the bride can either opt for a lehenga, or anarkali suit. She keeps the veil over her head upto the forehead for the entire ceremony. Her chooda may comprise of white, red, pink, peach, etc. bangles, which are given by her maternal uncle and aunt. The kalire are small golden or silver trinklets which serve as a blessing to the bride and are tied to the bride's chooda by her mama.
Also Read: Superb Style Inspiration Indian Brides Can Steal From Nishka Lulla's Bridal Trousseau
#2. Punjabi Bride
Images Courtesy: Instagram, Photosynthesis by Aditi
A Punjabi bride prefers wearing a red, maroon or pink lehenga on her wedding day. However, there is no restriction as such and she can wear any colour she wants. The colours that are usually avoided are black and white. Apart from her royal dress and other pieces of jewellery, a nose ring or nath, forms an integral part of her solah shringar.
Image credit: The Wedding Salad
The beautiful blend of rich wedding traditions and the flawless beauty of Punjabi brides can leave anyone spellbound.
Don't Miss: The Colourful Moments Of These Brides Will Make You Want To Have A Punjabi Wedding
#3. Muslim Bride
Image Courtesy: Sania Mirza (left), Sanjeeda Sheikh (left)
The first thing you will notice about a Muslim bride's attire would be her jewellery, especially the jhoomar. Another important part of her bridal look, is the silk cloth on her wrist wrapping the silver or gold coin tied by the groom's mother ahead of the wedding. Most Muslim brides often wear floral garlands supporting the veil that covers their face (which is revealed only after their Nikah).
Image Courtesy: Anshum M Photography
A muslim bride's eye makeup is something to die for, the finese of the kajal, lip colour and eyebrow pencil turns them into ethereal beauties.
#4. Christian Bride
Image Courtesy: Ronicka Kandhari
Indian Christians have certain customs that varies according to their region, like Mangalorean Christians, Goan Christians, North-East Christians etc. Not all Christian weddings in India, have brides wearing a white dress, some of them stick to wearing brightly coloured sarees for various events. But, those who choose to wear white, have certain fashion rules to follow, like a net veil supported by a tiara, a train along their dress, a white flower bouquet. As a mark of their traditional practice the bride is walked down the aisle in the church by her father.
Image Courtesy: Robin Saini Photography
With more and more women, going in for the white wedding, the Internet is filled with options of some beautiful gowns, tiaras, veils, etc. For their jewellery, they stick to earrings, neckpieces, or bracelets and these are all in silver, diamond or platinum.
Must Read: How To Find The Perfect Wedding Veil According To Face Shape For Christian Brides
#5. Assamese Bride
Image Courtesy: Anoop Padalkar Photography
As per Assamese wedding customs, the bride has to wear the mekhla chadar, a traditional bridal outfit, given to her by the groom's mother. It is often a cream or off-white silk saree with gold work. An Assamese bride goes low on makeup and jewellery quotient (restricted to only traditional jewels.) Their maang tikka is considered to be auspicious and is of utmost importance.
#6. Bengali Bride
Image Courtesy: Wedding Bells (left), Inderjeet Gill Photography (right)
Usually Bengali women wear white, or off-white sarees with red, pink and maroon borders for various religious ceremonies. But, as a traditional bridal attire, their outfits are commonly the bright red, pink or maroon benarasi silk sarees with zari work. Alta, which is applied on her feet is a major part of a bengali bride's makeup. She wears a maang tikka supported by a single layered matha patti, and a bright red bindi. The area above her eyebrows (and some times even the chin and cheeks) is painted with beautiful designs with white and red dots of sandalwood paste.
Don't forget to try these 10 Must-Have Food Items At A Bengali Wedding
#7. Tamilian Bride
Image Courtesy: Vikash Kumar Photography
The highlight of a Tamilian bride is her jewellery. A Tamilian bride has her hair braided in the most beautiful way, which is then decorated with traditional gold jewellery. Most brides, wear multi-layer neckpiece made out of gold. Even their head is completely decorated with heavy jewellery, comprising a single string maang tikka with matha patti, long earrings moving up till her hair bun. They wear bright coloured Kanjeevaram sarees with zari border.
Recommended Read: 5 Best Ways To Wear Your Wedding Lehenga Again After Marriage
#8. Telugu Bride
Image Courtesy: Anshum M Photography
A Telugu bride changes into two bridal outfits during her wedding. For the part, where she is brought in by her brother and maternal uncle in a tokri or a bamboo basket, she wears a traditional silk saree, complete with her bridal jewellery including a kamarbandh.
Image Courtesy: Anshum M Photography
For the Jeelakarra Bellamu and Madhuparkam ceremonies, the bride changes into a white cotton saree with a red border.
Must Read: Steal The Look- Stunning Maang Tikka Designs And Patterns indian bridal hairstyles with flowers From Real Life Bollywood Brides
#9. Malayali Bride
Image Courtesy: Vikash Kumar Photography
Just like other South Indian brides, the Malayali brides too are high on metal jewellery quotient, despite having a simple lifestyle. For the wedding, they are dressed up in white silk saree with golden border. They prefer floral jewellery to go with their outfit, which includes gajra, necklace and bracelet made up of white and orange rajnigandha flowers as well as jasmine flowers.
Recommended Read: 4 Simple Yet Trendy Ways Newlywed Indian Brides Can Flaunt Jhumkas
#10. Marwari Bride
A traditional Marwari bride has a heavily embellished lehenga or saree with embroidered silk and gold work. Her jewellery stands equal in competition with her bridal outfit, and is extremly heavy. Borla, a fingerlet, a kundan neckpiece or choker, and gold nath are the utmost important jewels for most Marwari brides.
Images Courtesy: Faizan Patel Photography
During the rituals, the bride is laden with a bandhni odhni, which acts as a veil to cover her face or head.
#11. Gujarati Bride
Image Courtesy: Dkreate Photography
A Gujarati bride's wedding outfit is intricately designed which is deeply connected to her community. Unlike, other Indian brides, the Gujarati females wear their saree with pallu/palla facing the front. A Gujarati bride, changes into two sarees during her wedding, a Panetar and Gharchola.
Image Courtesy: Anoop Padalkar Photography
Panetar is a richly designed white saree with red, golden and green dots handmade (bandhini) and is considered to be a last gift from her parents and relatives from the maternal side. On the other hand, Gharchola, a bright red saree with silk and zari work in stripes and checked pattern, is given by her in-laws affirming their acceptance of her as their daughter.
Also Read: 12 Super-Cool Indian TV Divas In Their Real Life Wedding Avatars
#12. Maharashtrian Bride
Image Courtesy: Anoop Padalkar Photography
Mundavalya, a string of flowers or pearls, is the first thing one will notice that distinguishes a Maharashtrian bride from the other Indian brides. Her bridal outfit is a two-tone, silk saree with a golden border, known as Paithani, and her hair is tied in a bun adorned with mogra flowers. Usually, the bride wears the saree in a dhoti style.
Image Courtesy: Anshum M Photography
The bride wears a traditional half-moon shaped nath, matching the crescent shaped bindi with a red dot and her jewellery is comprised of white pearls and gold.
Must Read: Beautiful Maharashtrian Brides And Their Special Wedding Moments
#13. Andhra Bride
Image Courtesy: Vikash Kumar Photography
Andhra brides are the most elegant and simple in their bridal trousseau. For the wedding, Andhra brides keep their jewellery minimal to neckpiece, earrings, and bajubandh. Their bridal wear is a silk saree with checkered and patterned work.
#14. Kashmiri Bride
Image Courtesy: Ganesh Bagal Photography
The traditional outfit for a Kashmiri bride comprises a pheran, which is a raffle-designed with an ari or hook embroidery at the neck, cuff and edges; it can be in red, yellow and pink colour. The headwear includes Kalpush along with Zoojh (a white colour cloth with golden glaze paper), and together the entire thing is called Tarang.
Image Courtesy: Mahima Bhatia Potography
The bride either wears a lehenga or saree with Kashmiri embroidery, and the dupatta is worn over the headwear to accentuate her beauty.
Must Read: Different Ways To Drape A Bridal Lehenga Dupatta In Style
#15. Oriya Bride
Image Courtesy: Sephi Bergerson Wedding Photography
An Oriya bride wears maroon, red or magenta-coloured, heavily embellished lehenga or saree with hand work. During the wedding ritual, the bride is laden with a bright red chunari with gota work. And the couple wears a traditional headgear.
Also Read: Steal Sonakshi Sinha's Million Dollar Looks For Your Best Friend's Wedding Ceremonies
#16. Parsi Bride
Image Courtesy: Anshum M Photography
Similar to Christian wedding, the Parsi wedding too has the bride wearing an all-white outfit, a saree with heavy embroidery work. Usually, the bride keeps her head covered with the saree's palla throughout the ceremony. But with changing times, women have restricted to covering their heads till the wedding ritual is performed. Their jewellery comprises mostly of platinum and white pearls.
#17. Ladakhi Buddhist Bride
Image Courtesy: Sephi Bergerson Wedding Photography
A Ladakhi Buddhist bride on her wedding day wears the traditional costume, a Goncha. It is made of a thick woollen cloth that is supported by belt tied around the waist. The bride wears the Goncha with a loose trouser skirt and intricately embroidered kamarbandh. The headgear, a Perak is coated with black lamb and decorated with turquoise stones, which is to wish the bride a beautiful life ahead.
Recommended Read: 9 Evergreen Traditions That Make An Indian Wedding The Most Beautiful Celebration Of The World
If you too got hitched in an ethnic way, then share with us your bridal photos and get a chance to feature here! We wish, that every bride has a life that glows even brighter than the sun.
Источник: http://www.bollywoodshaadis.com/articles/indian-brides-look-and-details-as-per-different-cultures-4005
50 Best Indian Hairstyles You Must Try In 2017 - STYLECRAZE
How to wear n95 mask singapore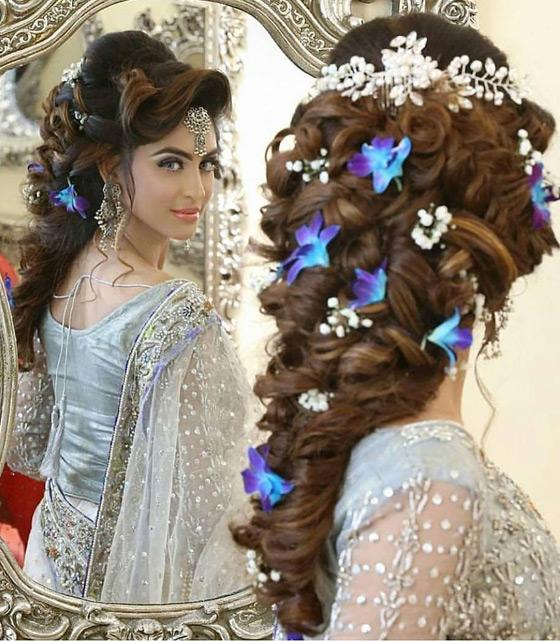 The first thing that comes to mind when I think of a beautiful heart-shaped face are the fabulous sculpted.