Decor for a purple room 2017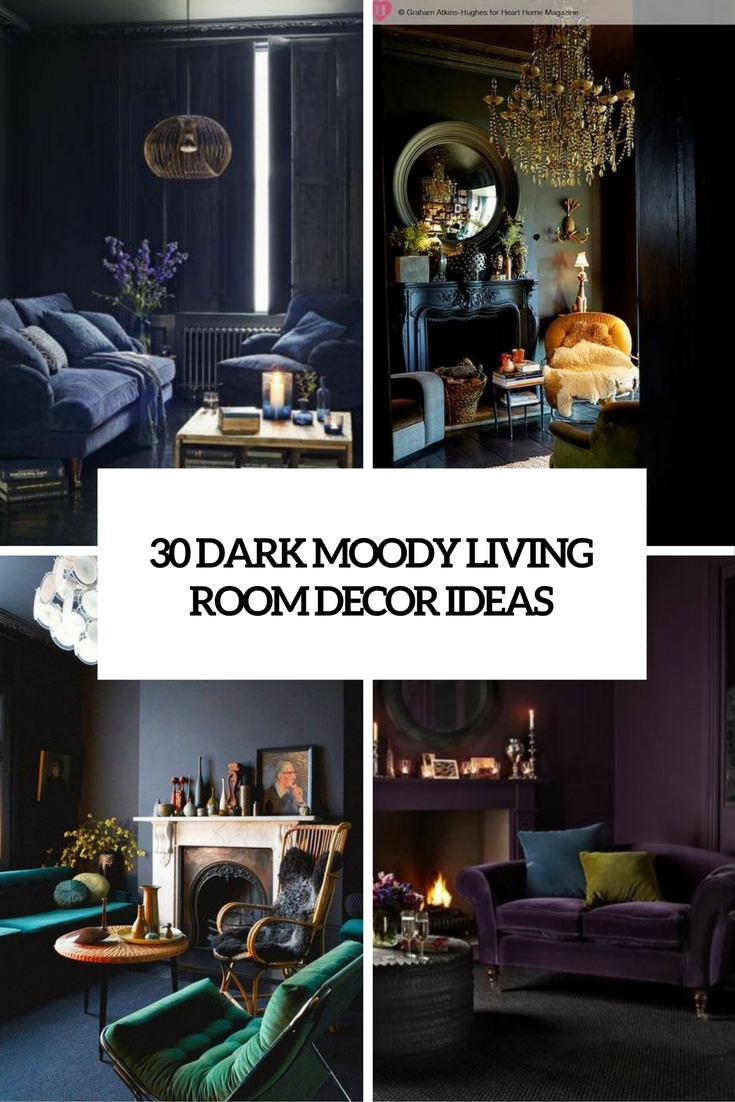 It's fall and it's the best time to embrace dark colors! Dark colors don't always mean gloomy shades, they can be refined, chic and very relaxing if you pull them off right. Today we are going to have a look at the coolest dark living rooms.
How To Decorate Your Living Room In Dark Shades
First of all, choose your style. Dark colors can fit almost any décor style: modern, minimalist, vintage and they are traditional for masculine spaces. Second, choose the colors. Dark and moody spaces don't always mean black, it can be grey, dark green, purple or blue. Molding on the walls looks very good, especially in graphite grey or black. Accent walls aren't necessary because they there will be many more other accents in the room.
Now consider your style and choose furniture according to it. To make your living room more eye-catching, you can take bold upholstery and unique shapes to make your moody living room pop. A single sunny yellow sofa in a dark graphite living room looks stunning and makes a statement. Emerald or indigo upholstery will add a refined, decadent and soft look to the room.
navy and black living room with emerald furniture and an antique fireplace
graphite living room with a sunny yellow sofa for an accent
navy living room with a faux fireplace and a navy mirror over it
vintage sitting room with indigo furniture and traditional shutters
moody darker shades of blue and green can be used for a different living room look
What can add to your living room décor? First of all, a fireplace. It may be non-working or a real one, with candles or logs inside, decorated with molding or stone around, and it will definitely add more coziness to your living room.
black walls and red and fuchsia furniture and a carpet
deep and moody aubergine purple of this living room draws one in
monochromatic black living room with leopard print touches
small living room in black with red furniture
Lamps and lights can be used for accentuating a space. Bold brass chandeliers, unique mid-century modern floor lamps or geometric pendant ones taken in various colors will pop up in the interior besides giving some light.
black living room with gold pendant lamps and vintage furniture
dark Gothic living room with unique gold chandeliers for acentuating
dark hued room with purple accents, cact and unique pendants
elegant neoclassic living room with black walls, an antique fireplace and a gold chandelier
soft black living room with a dark green sofa, art deco lights and a working fireplace
small dark sitting room, chic modern furniture and a unique brass chandelier
How To Make Your Dark Living Room Stand Out
Dark colors can be too gloomy and depressing if you choose only one shade. Then you can play with textures and try brick, stone, wood, marble, metal and other materials to make your living room stand out keeping this monochromatic décor.
Another idea is rocking different shades of one color. If choosing bold upholstery and brass isn't your choice, then take different shades of one color, for example, grey, and stick to it.
One more idea is rocking various accessories and decorations. Candle holders, copper details, oversized artwork, lanterns and various decorations of your choice will help your living room to look good and stylish.
modern living room with rustic touches
cozy living room with wooden furniture and lots of lights
dark chocolate living room with metallic accents and greenery
dark grey walls, a black sofa and raw wood furniture for a natural feel
dark living room with black walls, colorful accessories and various textiles
elegant modern living room with rich wood decor
grey walls, a navy sofa and a modern large scale artwork
Keep light in mind if you don't want your stylish dark living room look too boring or moody. Opt for big windows and hidden lights for creating an ambience. Also consider making several layers of light to make it more functional and to have an opportunity to illuminate the whole room.
moody living area in green shades looks soft and welcoming
industrial touches and textures of brick, metal and fur make this living room unique
masculine living room with a navy ceiling and a grey velvet sofa
modern living room with oversized photos and a carpet
moody living room in dark grey and black flooded with light and enlivened with greenery
modern living room, black walls, a glitter stone accent piece and an oversized artwork
moody minimalist living room in black and white
Источник: http://www.digsdigs.com/moody-living-room-decor-ideas/
Baby Kids' Room Decor Babies R Us
Luke hemmings tumblr collage
The impassioned author of that blog, Pink Is for Boys, is careful to conceal her son's identity, as.